Having been an athlete my entire life, I've never concerned myself with diets. I've always thought exercise was enough, and hardly paid attention to the chemicals and toxins I put in my body. I seriously could eat an entire pack of Oreos and justify it by saying, "I worked out this morning." I would eat a greasy hamburger here, a pint of ice cream there, and then have a few beers on the weekends. I would cook everything in butter, order fast-food every week, and eat dessert every night. Then – long story short – I tried the Whole30 diet. I didn't think in a million years that I'd be eating and living the way I do now, but I also didn't think that living this way would feel so incredible.
What is Whole30?
Founded by Melissa Hartwig in April 2009, the Whole30® is designed to change your life in 30 days. Think of it as a short-term nutrition reset, designed to help you put an end to unhealthy cravings and habits, restore a healthy metabolism, heal your digestive tract, and balance your immune system.
Program Rules: Click the link for specifics, but a short summary would be no alcohol, sugar, dairy, legumes, or grains for 30 days. Artificial sweeteners, soy, MSG, butter, and a few other common ingredients are also out. 
I know you're thinking, "Well that's everything that's good! What can I eat?!" Don't worry, we will get to the tasty recipes soon.
The program also suggests that you refrain from weighing yourself during the 30 days. This diet is about changing body composition, not weight. We all know that muscle weighs more than fat, so even if you're losing a few inches in your waist, your weight is irrelevant and could even discourage you from continuing. If you commit to the program, just trust the diet, and watch your body transform before your eyes.
My Experience
As much as we didn't want to admit it, my boyfriend and I had been thinking for months that we needed to get our health on track. We even wrote in our 2018 resolutions to start eating better, drinking more water, cutting out sweets, etc. (you know, the vague goals that we had no actual willpower to work towards). He needed to lose weight, and I needed to get my cravings under control.
To be honest, we just knew we had to do something, and when I came across the Whole30, I thought "Well I can do anything for only 30 days." We hardly studied or prepared; we just threw ourselves into it, and little did we know that it was going to change our lives and the way we thought about food forever.
"Changing the way you think about food is hard."

–Melissa Hartwig, It Starts With Food
The first week was the hardest. We both lost several pounds within the first few days, simply because we didn't know what to eat! Salad, meat, vegetables, repeat. That's all we knew to do. I scrambled around the grocery store finding ingredients to make my own mayo, clarified butter, ketchup, and salad dressings. However, once we stocked up and I became more familiar with the routine, the days just got easier and easier. Everything was fine and dandy until the cravings hit. Hard.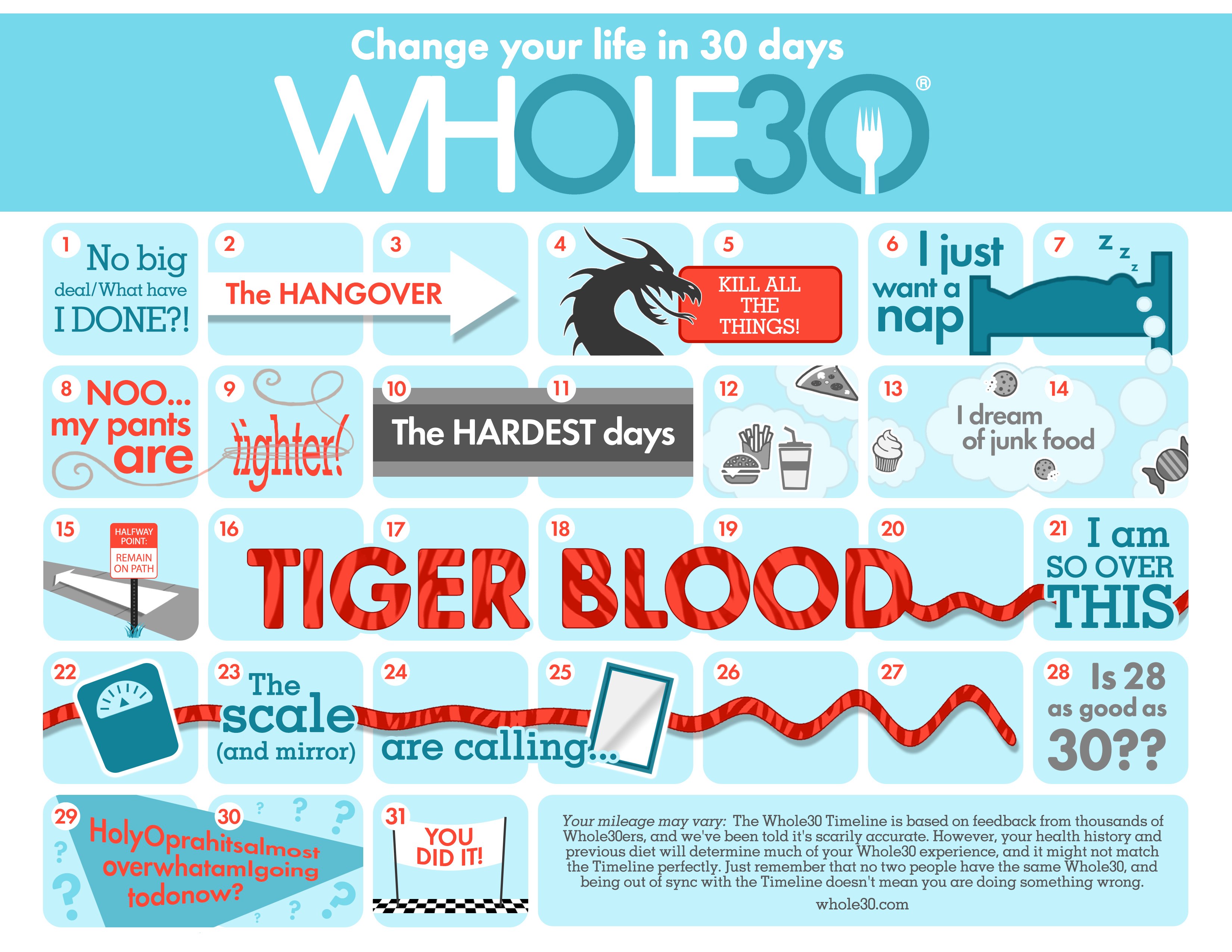 Around Day 10, we were over it. I had an extremely vivid dream about pizza (this is no joke), I experienced mood swings and fatigue, watching friends and coworkers eat their lunches made me jealous, and I was hungry all the time! However, I just kept reminding myself that it was only for 30 days, and if I wanted to see real results I needed to discipline my body. After all, I was already one-third of the way there.
By Day 18, things were better. We got into routine, grocery trips went by faster, and I found new, compliant snacks and dressings that I could buy prepackaged on the Live Naturally isle at Kroger. Saying "no" to unhealthy cravings became simple. This is also around the time period that I started to feel better. One month before, I was having to wear an ankle brace and tape both of my knees to work out, due to joint pain and inflammation. Now, I didn't experience that anymore. My entire life I have struggled with acne, but my face was now completely clear. A few months before, I was diagnosed with mononucleosis causing chronic fatigue, but now I had the energy to do more than I ever was before! My thoughts were clear, my movements were quicker, I was leaner than ever, I could sleep through the night, and I really did feel like I was on top of the world. In fact, I wasn't even missing the unhealthy foods I was used to eating!
The rest of the month is history. We finished the 30 days. We felt empowered. We reached the finish line, saw the results, and learned more about our bodies than any general dieting could have taught us.
While we've added some of the banned ingredients back in, we eat them in moderation now. We don't binge eat, we shop on the outside of the grocery store, we pay attention to nutrition labels, and we consider eating out a special occasion rather than a regular way of life. Now that I know the way that some of those foods make me feel, I don't even want to touch them. However, I'm not depriving my body of the good things in life; I'm just saving those foods for special occasions, and eating healthy the majority of the time. In the end, I've realized that we didn't just change our way of eating, we changed our way of life. I look forward to my next Whole30 experience. 
Recipes
I bought a used Whole30 Fast and Easy Cookbook on Amazon, looked up snacks and recipes online that were compliant, and started building a Whole30 binder with go-to meals that were quick and tasty. Here are some additional links to help you get started.
Tips   
Know your reason. Why are you dieting? Is it to lose weight? Feel better? Be healthier? Decide why you're doing it and stand by it. While Joseph received compliments again and again on his weight loss, I was consistently shamed. "You're too skinny to be on a diet" is what I would always hear. I had to remind myself that I wasn't doing this for anyone else, I was doing it for me. I've never had a problem with my body and to me, it wasn't about how I looked. It was about how I felt.
Be accountable. While I highly suggest finding a partner or group to do this diet with, there are also other ways to be accountable. Hire a Whole30 coach or nutritionist, write journals at the end of each day, or report to a friend after every meal. Whichever way you choose, show commitment and accountability for what you eat. It was easy for Joseph and I because we could plan meals together and trust that the other person would follow the rules on their own.
Always read the ingredients. You'll be amazed at how many companies add unnecessary sugars, oils, and chemicals to their products. Be aware of exactly what you're putting in your body.
Know what you're in for. Whole30 is one of the strictest diets you can do. Understand that you're going to be in the grocery store every few days for fresh produce. Understand that your body might initially suffer withdrawals and cravings you've never experienced, and undergo new symptoms upon retrying ingredients – due to a lack of tolerance. Understand that fresh, healthy foods often cost more than boxed, canned, and frozen processed products. While we ended up spending around the same because we used to eat out all the time, you may need to expand your grocery budget some depending on your usual diet. And lastly, understand that you're making a lifestyle change. You may be pushed out of your comfort zone, and that's okay!
Do what works best for you. Don't do the Whole30 because I've told you about it; research it yourself and see if this is the best diet for your lifestyle. Every person is different with different schedules, different tastes, and different financial capability. Even I didn't follow it to the full degree, by eating large portions of fruits and nuts – which aren't banned, but are also not recommended. There are tons of diets out there (Paleo, Vegan, Keto, etc.). Not all of them are as healthy for you as the Whole30, but the point is to form better habits and ultimately a better you, so as long as you're eating healthier than you were before, you're moving in the right direction.
Find your favorite foods and stick with them. Joseph and I lived off sweet potatoes, larabars, and avocados. Obviously that's not all we ate, but those foods were in our meal plans almost everyday, because we knew we liked them. We got in routine of eating a larabar or eggs and avocado for breakfast, a salad with two slices of deli meat for lunch, and a meat, two vegetables, and potatoes for dinner. Once we decided on the meals, dressings, and sauces we liked, grocery trips were way easier to plan.
Follow through. Set a measurable and attainable goal. Then make sure you reach it! With Whole30 it's easy because the rules are already laid out for you, and you can count down from 30 days. But no matter the diet you do, you'll never know what you're capable of until you push your limits. Food cravings are a slippery slope, so it definitely helps to have a finish line!
Hopefully this gives you that extra touch of encouragement you needed to make a change, and I wish you luck in your own diet endeavors! Please share and subscribe for more health, fitness, and travel related articles.